Jacqueline Lavenu Studio & Gallery
Just another WordPress site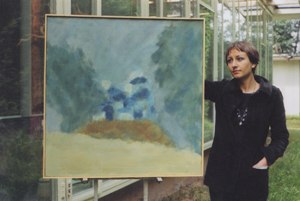 Jacqueline was born in Cherbourg Normandy and demonstrated a talent for painting and color early in life. After studying German in Nürnberg and Heidelberg Jacqueline attended the Akademie der Bildenden Künste Nürnberg. At the Akademie Jacqueline was awarded the distinction of  Meisterschülerin which afforded the privilege of her own studio adjacent to Prof. Ernst Weil. During her studies Jacqueline frequently participated in group exhibitions and on the occasion of her first showing at the "Haus der Kunst" in Munich was contacted by the Kahn Gallery to present her work in Dallas.
Moving to Berlin in the late 1970's Jacqueline continued to develop her expressionistic style drawing on her travels in Italy, Turkey and Greece, for inspiration. In 1986 Jacqueline moved to San Diego.
Jacqueline agrees with Paul Klee's observation: "Die Kunst gibt nicht das Sichtbare wieder, sondern macht sichtbar" ("Art does not reproduce the visible rather makes visible").  Thus Jacqueline only works from her sketches which in the quiet of her studio she uses to translate the captured feelings and emotions on the canvas.
Jacqueline's purpose is to show only the essence of the subject and avoid the clutter of unnecessary detail. Thus her work exudes an atmosphere of peace and tranquility.
It is enormously gratifying to see her life's work culminating at the Jacqueline Lavenu Studio & Gallery unique among the Art Galleries in San Diego.
Jacqueline's works are in private collections in Germany, United Kingdom, Switzerland, France and the United States of America.